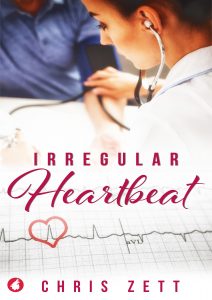 Read an excerpt here.
Out now! Also available as an audiobook, narrated by Abby Craden.
After nearly a decade as a professional drummer, Diana Petrell leaves her rock-star life behind to continue her residency in emergency medicine. She's determined not to let anything stop her—not even falling in love with her aloof mentor, Dr. Emily Barnes.
Emily has only ever focused on her career as a senior attending in the emergency department, and she isn't happy about having to babysit a resident with a ten-year gap in her résumé, no matter how intriguing she is.
But every time they work together, it's not just their patients' heartbeat that gets a little irregular. Soon, the once-clear lines between work and personal life begin to blur.
When Diana's unorthodox secret past is revealed, putting her job in jeopardy, Emily has to choose between her career and her relationship. A lesbian romance that asks how much we'd risk for love.
Irregular Heartbeat is a GCLS Goldie Awards Finalist (Debut Novel) 2018 and a Rainbow Awards Winner (Debut Novel) 2019.
Buy now:
Ylva
Amazon US
Amazon DE
Amazon UK
Apple Books
Smashwords
Audible
For sneak peeks of upcoming novels and more information, subscribe to my newsletter.